Pack Trips
Whether it's a couple of hours or 3 days, on foot or on horseback, the terrain in and around Pine Stump Farms does wonders for clearing the mind and toning the body. With 360 annual days of sunshine in the Ponderosa Pine woods at elevation 2,300 feet, there are many opportunities for adventuring and enjoying nature.
Where are we?
Pine Stump Farms is located 2 hours north of Wenatchee coming up Hiway #97. At Omak, take Highway #155 going towards Nespelem/Grand Coulee. 9 miles east, there's a road named Haley Creek. Go right and come up 3 miles. We are plainly marked on your right hand side.
Once you arrive, the pace of life immediately changes, and you breathe deep lungfuls of sweet, piney air. The fresh breezes are gentle, as we are in a protected north side of Omak above Omak Lake. The lake, 15 minutes by car or a couple of hours on horseback, is 10-miles long and spring-fed.
Ecology tours with interpretive hikes accompanied by a knowledgeable forester are available. Horseback rides from 1 hour to a couple of days are another option. There are ample camping sites and a few rustic cabins. We are located on a Wildlife Reserve on the Colville Indian Reservation, so there are literally miles of woods to explore.
Therapeutic Horsemanship
In addition, Carey coordinates a Therapeutic Horsemanship program. This unique manner of relating to horses offers many benefits.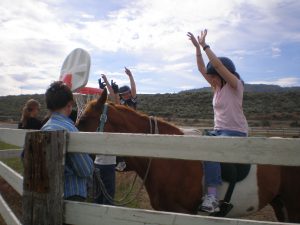 UROk
Unlimited Riding of Okanogan County
A Therapeutic Horsemanship Program
What is Therapeutic Riding?  It is the innovative use of equine-related activities to improve the body, mind, and spirit of individuals of all abilities.  Therapeutic horsemanship provides benefits in the areas of therapy, sport, recreation, education, medicine, and social.
What are the Benefits of Therapeutic Riding?  The benefits of this kind of horsemanship are realized in many areas: psycho-social, cognitive, physical, and speech.
Improves balance and coordination
Improves ability to concentrate and follow directions
Increases self-esteem and confidence
Promotes human-animal bonding
Provides opportunity for fun and recreation
Improves strength and endurance
Improves communication skills
Promotes normalization of muscle tone
Therapeutic Horsemanship has many functions.  It provides healthy exercise. The rhythmic movement of riding strengthens and stimulates the muscles automatically.  Balance, muscle control and coordination become integrated skills.  Improved posture and upper body strength occur naturally – not to mention the social benefits!  As a form of recreation, horseback riding is a great equalizer – anyone who rides becomes part of an accepting group and the sport can be enjoyed throughtout life, in spite of other physical or emotional conditions.  The sense of freedom and achievement that comes from riding is irreplaceable.
Who is eligible to participate?  UROk is designed for people of all abilities. This can include, but is not limited to, psychological, physical and learning disabilities as well as people who simply want to learn a non-intrusive way of getting to know horses better.  Volunteers are an essential part of the program and determine how many special riders can be involved in riding.
What do people have say about UROk?
"I learned that both with horses and people, patience is key".
"It is a new adventure each week."
"Whether you think you're good at something or not, you'll always find someone who can use your help."
"It lets you feel free!" "I can sit up tall."
"I've always thought everyone should be treated the same and this program does that."
"As a caregiver, it was encouraging for me to see the kids' enthusiasm."
"There are so many more people at all age levels that need to know about this project."
For more information on registering or volunteering call: Carey Hunter at 826-9492 or email: pinestmp@hotmail.com  
We operate as a specialized, 4-H group and are open to all without discrimination.